Have you imagine how far are you from those whom you think has higher intelligence than you? Well, try to compare yourself with these guys.
Note that this is only their estimated IQ. The IQ might be different depending on the test given to them. See how they differ
here
.
I'm not sure how true is this test, but i think its fun to answer the questions. In Malaysia, i don't think IQ test is compulsory. That is why genius like Adiputra is hard to spot. Again, i think it's fun to know how your mind work once a while.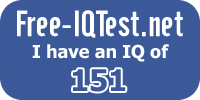 Copy and pasted from
here
.